Olmsted Falls and Novelty Classes
Registration Deadline: August 22
**Please note that the registration for our adult and children's classes is closed now.**
Please note that – due to the current COVID-19 pandemic – we will be teaching online until Christmas. This is why we need to ask you to register by August 22 so that we can put our classes together before we start teaching remotely. We do accept payments until the first day of class. If you would like to register now but pay later, please click on the option to pay by check when registering. You can then decide later whether you would like to pay by check or credit card.
Year-round online class for adult beginners:
For the first time, in addition to our regular adult classes, we are also offering an online class for adult beginners that will be taught for an entire school year. If interested, please register for the adult beginners class and let us know by email that you signed up for this online-only class:
info@germanlanguageschoolcleveland.org. This class will start September 1 and will take place on Tuesday nights, starting at 6:30 PM.
Please note that some firewalls and browser settings can interfere with filling out the form. Please ensure plugins are disabled or you can use a private viewing window to disable features while you sign up.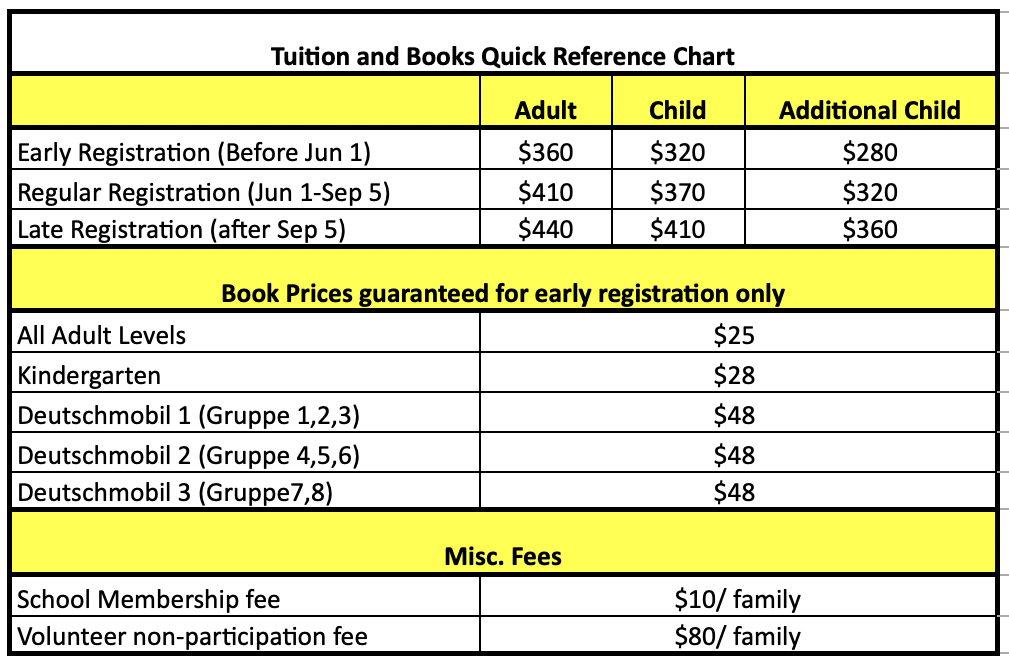 **Please note that the registration for our adult and children's classes is closed now.**
School times and start dates:
Olmsted Falls Wednesday – September 2nd 6:30 pm-9:00 pm
Olmsted Falls Saturday – August 29th 9:30 am-12:00 pm
Novelty Monday – August 31st 6:00 pm-8:30pm
click here to download the PDF of the full school calendar.
Please note that payments made by check should be mailed to:
German Language School Cleveland
P.O. Box 38160
Olmsted Township, Ohio 44138